List Mailer Plus Review 
Is This Worth Your Time?
Is using List Mailer Plus worth your time? I signed up for the Free Membership two weeks ago to see what this was all about.
Understanding how it works and the time involved in using the email membership is a bit confusing without details or any explanations.
Could by my newness to the internet marketing industry but have a look below and see what your thoughts are on filling up your inbox with advertisements from this List Mailer Plus program.
---
---
Membership Offered Free or Paid
First of all, let me explain that I sign up for email programs trying to find the most reliable ways to make money online. I do this for people out there that have gotten ripped off by the gurus and scammers reporting on them so people are aware.
When I received the email with the offer to sign up for List Mailer Plus this sounded like a possible great way to have some advertising for my online business.
A Free Membership is always welcome to check things out and see how they work, especially with any new program offered over spending extra to join as Paid Membership, is not always the best way to go.
Below is a screenshot of the sign up available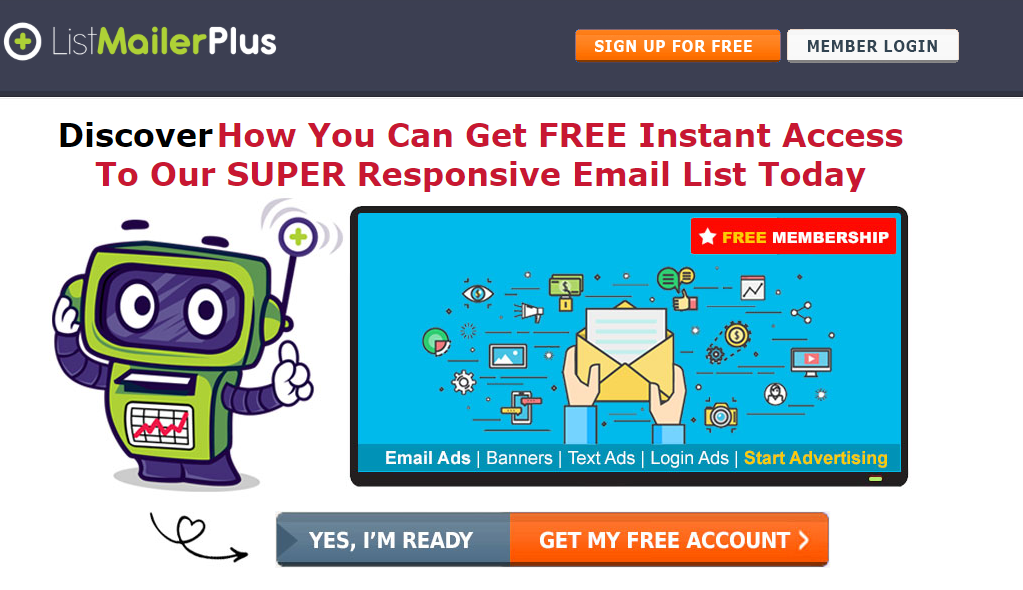 Taken To Choice of Membership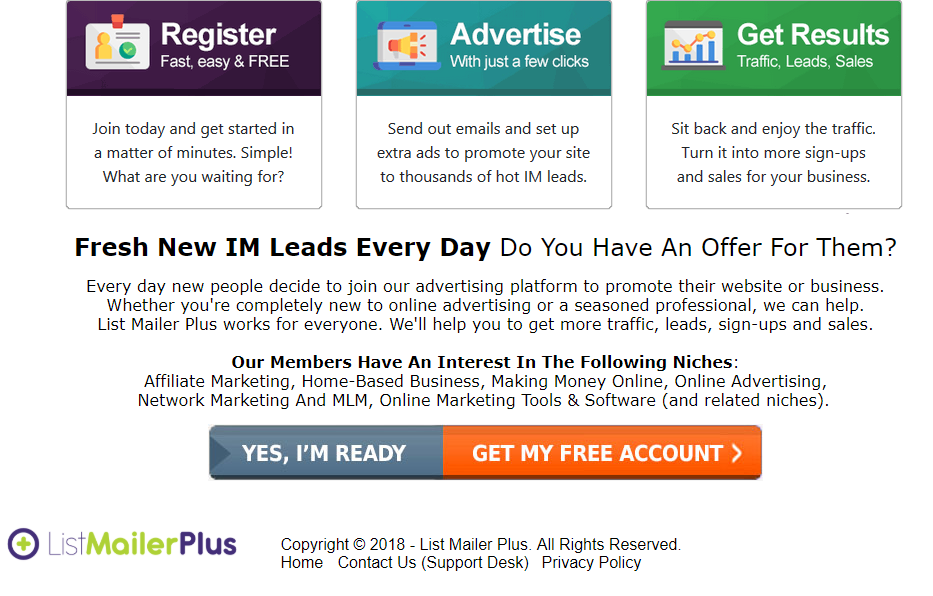 Once you are all signed up then the next page they offer you the list of benefits they offer by having either a free or paid membership.
(Copy below) Kenny Kolijn and Sammy Kolijn have been at this for a few years it seems. Back in 2016, they started an advertising site called List Impact.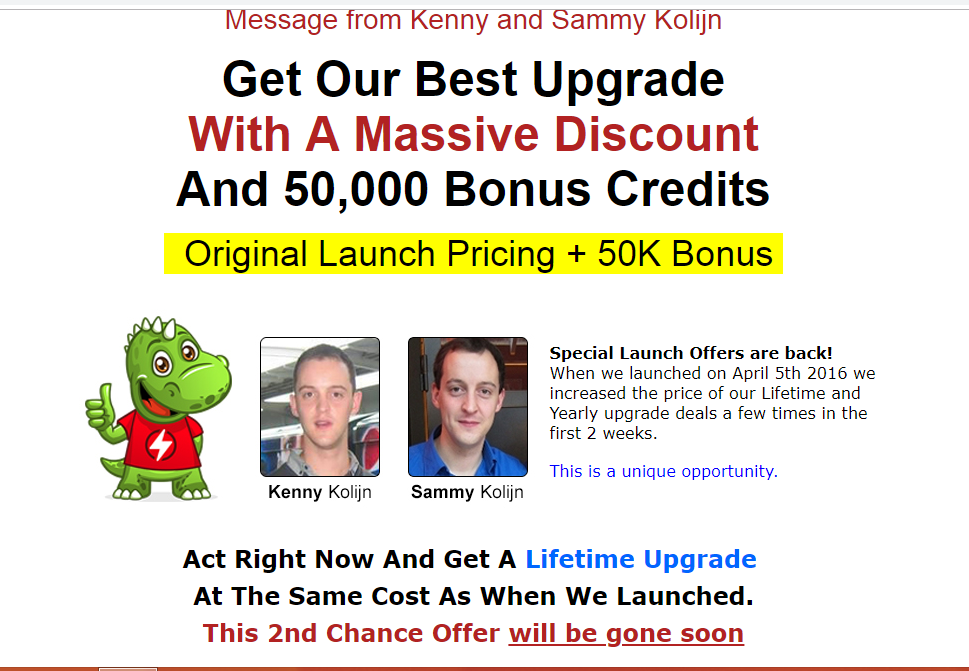 List Impact claimed to have quality advertising, active members, constant growth, generous commissions, and insane rewards.
Looking around the internet I cannot find much on List Impact except for people who are promoting it for the commissions that are paid?
Commissions for List Mailer Plus are not as high as the original List Impact (which I did sign up for after finding this out will write a review on them after this one, please watch for it).
---
How To Use Your Membership
From the Dashboard, you can see that you need to accumulate Activity Points and Credits. With these then you can purchase advertising on the website or send out emails.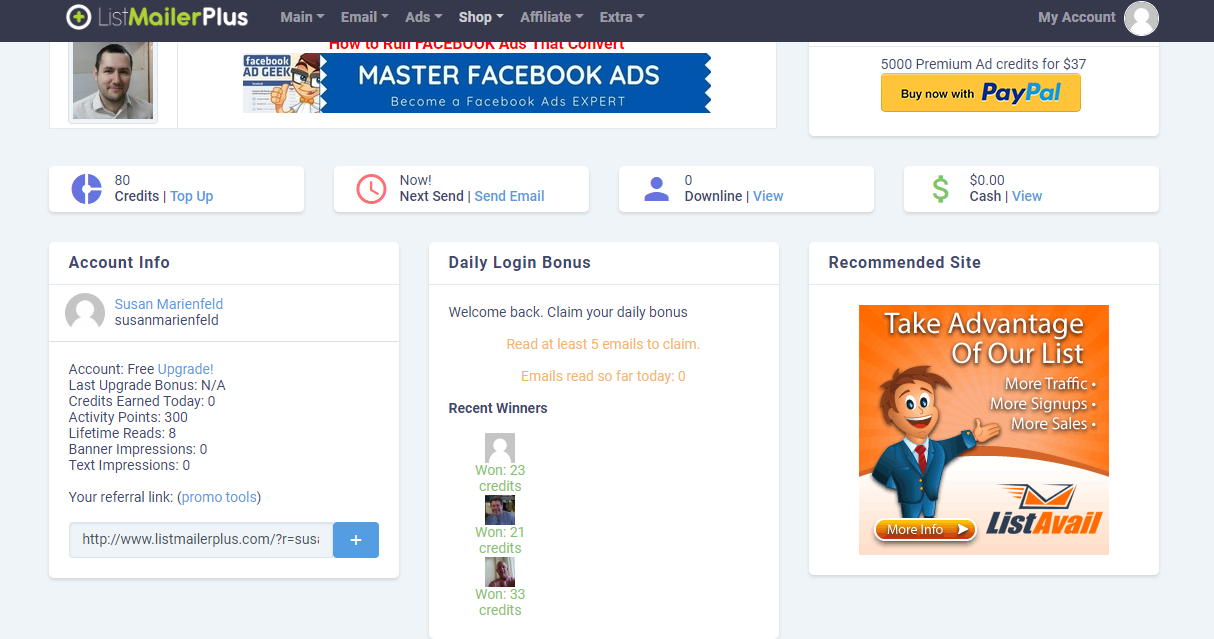 You can purchase advertising credits with Pay Pal along with earning these by reading emails on the platform. Credits for emails you must spend a certain amount of time on these to earn your credit.

Therefore, as a Free Member, this can be highly time-consuming in order to reach the number of Activity Points and Credits required to place ads or send out emails.
The screenshot below reveals what you can do with points and credits, along with the percentage of affiliate commissions you can earn with advertising for List Mailer Plus.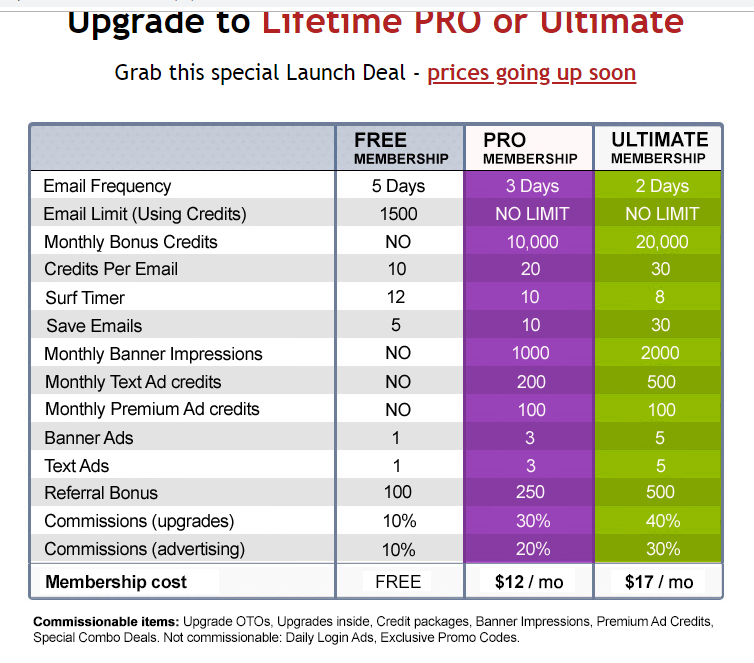 ---
Want A Real Way To Earn?
As a free member earning with List Mailer Plus is not going to give you much of an income, but if you have the time they can be worth looking into.
I prefer to earn my commissions in a much broader way without having to pay for advertising with time or money. You can get FREE access by clicking the box below "Create Your Free Account Now".

This method will earn you a passive income for years to come without having to read advertisements and emails for hours to earn enough points or credits to do advertising of your own.
They teach you how to gain organic traffic by using SEO building a business online or offline with step by step lessons that get you involved right away. Hands-on instructions are much easier than trying to figure things out for yourself.
The Free Starter Membership comes with 20 Lessons, 2 Free Websites for you to build your business, and absolutely Free Hosting. Talk about a real deal, you need to check this out!
Truth is not everyone is cut out to work online building a business, but considering the Free Starter Membership, it is worth a try to find out if it would be something that interests you.
---
In Conclusion
So what is my recommendation of List Mailer Plus? I joined but to be honest I am probably not going to continue the Free Membership I have now. You receive tons of emails from them with offers I already know are proven scams.
Are they worth my time to read emails for 10 credits per email in order to build up enough for me to send out advertising for my own online business? Not in my opinion they are not I can write content for my website faster.
An article on my website is able to earn a passive commission on a 12% conversion rate of $23.50 per subscriber, meaning a monthly income of $282.00 per month.
That means out of every 100 visitors at least 12 people subscribe not too shabby if you ask me. The more visitors to a website the higher number of subscribers the more your commissions will turn out to be.
I would like to ask you again what is stopping you from clicking the box below and filling in the "Create Your Free Account Now" form?

Would you not like the opportunity to work from home?
Like to retire early because you can?
No one is holding you back except yourself, take the time to join me today I will be there when you get to the inside you can look me up the profile is Marley2016. Not only that you can have my one on one coaching for the first seven days free as well.
Appreciate hearing from my reader's whether you have any questions, comments, or suggestions please leave them in the space provided below. I answer all of them usually within 24 hours.
Thank you for taking the time to read my article today, seriously waiting to see you on the inside.
Best wishes to you and your future success online,
Susan