David Dekel (FUNNEL X) Scam or Real?
Lately, I have noticed getting more emails than usual from David Dekel (FUNNEL X), so time to do some research to see what his program is all about.
Want the absolute FREE way to learn to make money online check out what is offered by creating your free account today!

---
FUNNEL X ROI
What exactly is FUNNEL X ROI is my first question although I do know what a funnel is curiosity has me wondering how people can make $3,000 in 10 days; but even more amazing is claiming to make $20,000 in 5 weeks?
Opening the email I received was a video from a man named Scott Darwood from Sugarloaf, New York – he claims he came across one of David Dekel's systems and put it to work.
Used it for a little over 30 days and made a little under $20,000 in this time; says he is not a newbie to these systems but anyone could use the system it is so easy.
He gave a good testimonial enthusiastic about making residual income with systems since 2015 but gave absolutely no details into the system or how it works.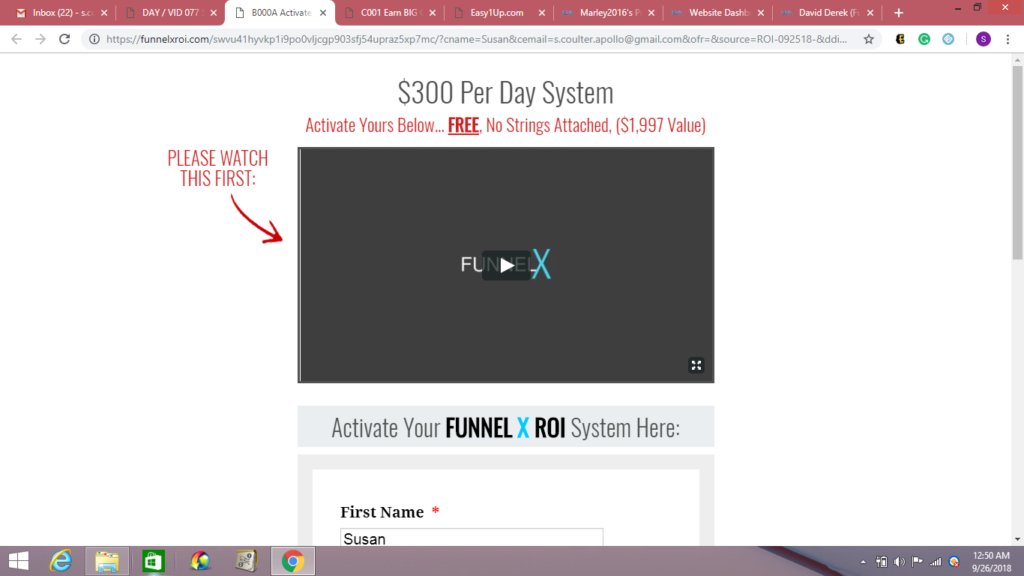 ---
Next Video is of David Dekel
$300 Per Day System Activate Yours Below…
FREE, No Strings Attached, ($1,997 Value)
In order to get this system for FREE, you must listen to the complete video of David Dekel with him giving a very long talk about how you must agree to follow all the instructions he is giving you to make at least $100.00 per day.
You need to do more work if you want to make triple the number of commissions, plus you need multiple products to offer not just one thus increasing the number of commissions you able to accumulate.
He gives details of how he worked so very hard with setting up his system and he is not going to charge you to use it, but you must help others by paying it forward.
The only thing he asks in return is that you send him a video confirming you succeed with his system that he is giving you all the information needed for free.
This system has a value of $1997.00 so he can only leave so many people in FREE before he has to start charging everyone else for it.
So what to do next?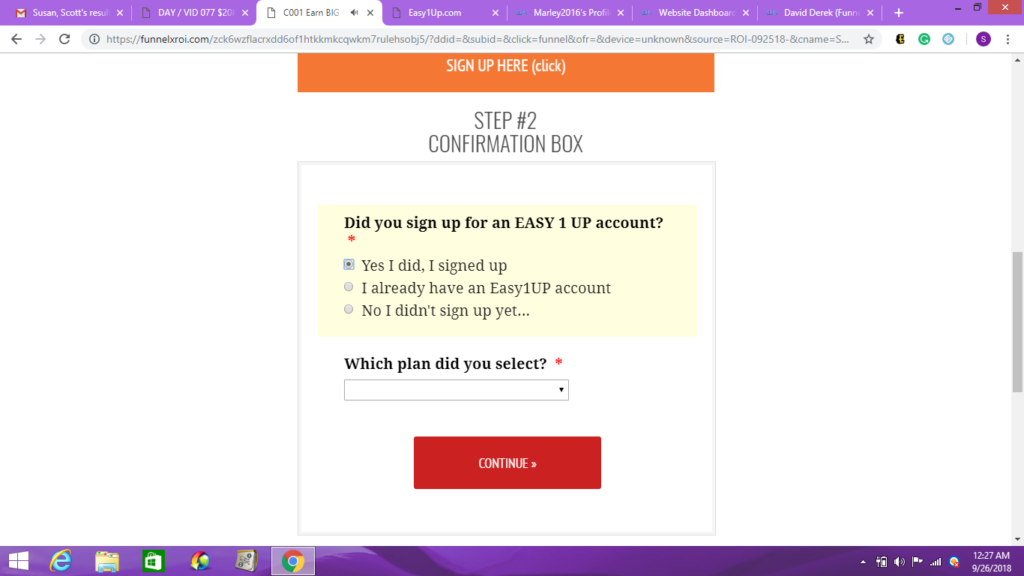 Signing in to Next Page:
                                       1.ACTIVATE 2.CONFIGURE 3.FINISH
IMPORTANT WATCH THIS: EARN BIG COMMISSIONS FAST (FROM TOTAL STRANGERS)
WITHOUT DOING ANY OF THE SELLING YOURSELF…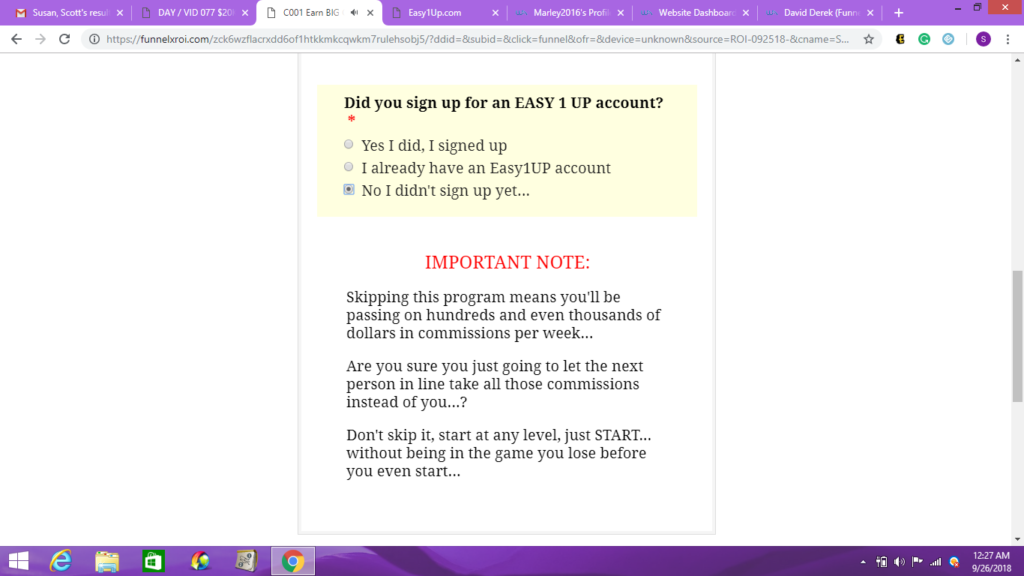 Once you finish filling out all the information on this page you are then finally redirected to the actual "system" from what I am guessing.
---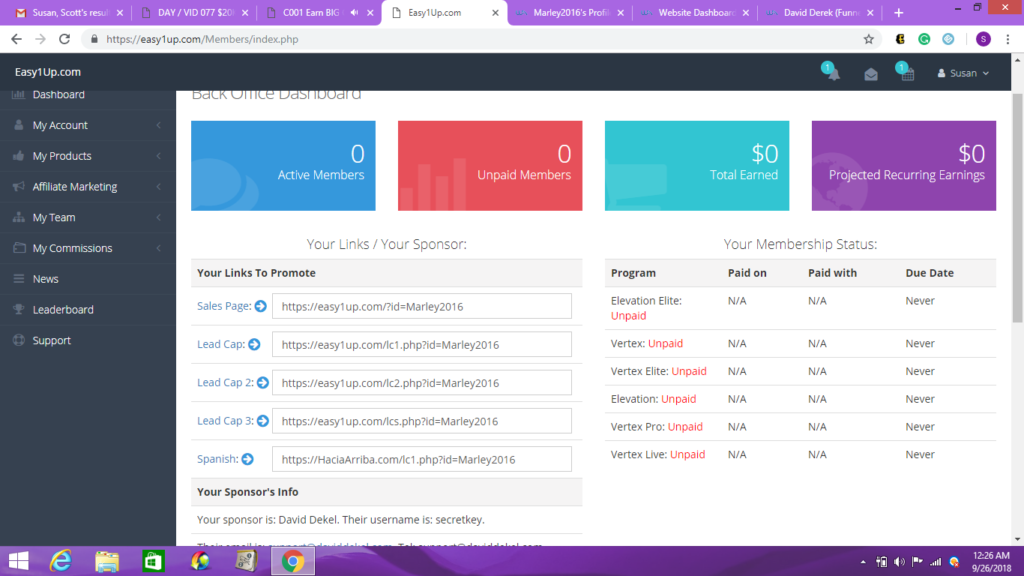 Easy 1 Up.com has many levels to which you are now asked to join the lowest entry amount is $25.00 known as the Elevation Level this restricts your commission to only the $25.00 when you get someone to sign up. Even if they sign up at one of the higher levels this is the amount you will get paid.
Next, you have the following levels:
Elevation Elite $100.00
Vertex $250.00
Vertex Elite $500.00
Vertex Pro $1,000.00
Vertex Live $2,000.00
Wait, I forgot to mention there is an additional charge of $10.00 for administration fees to process your transaction when you buy into the program!
You are getting people to sign up for the exact same thing as you just did, the only thing is once you go to Elevation Elite then the commission you will get paid is equivalent to your cost into Easy 1 Up.
As you spend more you make more, now thinking about this would be extremely nice money to be made but how many people do you know that are going to spend $2,000.00 to get others to join and make their money back with just one conversion?
Even if you do get one person to join thereby getting your money returned in order to make any profits you must then promote this for others to sign up doing the exact same thing.
With the Elevation Elite, you do get another product to promote which is a high ticket of $97.00, I tried to research this product but could not find any information concerning what is.
It appears to be a website called: www.vortexleadsystems.com This is yours to promote and sell with the Elevation Elite purchase of $100.00.  According to the video, the total cost of this is yours to keep if you sell the product.
David Dekel claims in the videos all you have to do is promote the products but all the selling and advertising is taken care of for you, but he does not explain how that is done?
Simply stated you are to promote the products so in my opinion you are doing your own advertising and selling and in order to do this your either going to already have to own an existing website or purchase one.
---
In Conclusion
Is FUNNEL X ROI a scam or real deal that can be profitable? My opinion is "No thank you!" I am not interested in taking peoples hard-earned money on this type of system.
To me this is just a type of pyramid scheme where you pay for something and then have to turn around and sell the exact same thing making people at the top money; because if you join at the $25.00 tier where does the rest of the $1975.00 go if you have someone join at the $2,000.00 level?
Can you make money with the system? That is a very hard question to answer unless you have a way to promote such a system I cannot think that it would be possible.
My #1 Recommendation for Making Money Online would be Wealthy Affiliate, you can join and try out the community there for absolutely FREE with no obligation and no credit card!
Do you purchase a pair of shoes without trying them on first?  Then why pay for something before you get a chance to try it and see if it is going to DO what you are looking for?
I joined Wealthy Affiliate for FREE started doing all the training and asked questions in the Live Chat area from other more experienced members before I decided that it was a legit way of building a real online business that would earn me a passive income for years to come.
Seriously there is no magic buttons or secrets out there to making money online – the way to do it is work, consistency, dedication, commitment, time, patience, and then just more work but the work is not hard it can actually be fun or relaxing depending on what you like to do in life.
If you are looking for a way to make serious money online then click on the "Join Now" button below and go straight to the "Create Your Free Account Now" sign up page.


I love hearing feedback from all my readers so please leave any comments, suggestions, or questions in the space provided below.
Thank you for taking the time to read my article today looking forward to seeing you again.
Best wishes and to your success,
Susan
[wd_hustle id="opt-in-with-email" type="embedded"]