What Makes Up A Website?
Components of a website that you are going to need to have decided prior to building a website are going to be discussed below.  When building a website many think you can just drag and drop boxes around not doing very much work, right?
This is how all those advertisements are portrayed on television when hosting companies are trying to get your business. So what are they leaving out?
You know you have seen them on television and YouTube commercials from a number of those hosting companies that are trying to get your business.
They start with building your website here it is so simple a 4-year-old can do it, well basically it is but that 4-year-old needs to know all the right components required for your website to rank and convert.
---
 Niche Selection                                                                                            
The first thing you are going to need to build your website around is a Niche; most everyone has a problem deciding on a Niche.  What is a Niche?  A niche is a product, service, or interest that appeals to a small, specialized section of the population.
Your Niche should be something that you are passionate about, have experience with, and can write information about on your website to inform others about these products, skills, businesses ventures, how to's, setting up a store, reviews, and I could go on but I think you are getting the idea.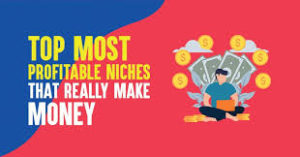 Once you have decided on a Niche then you need to perform research on it to make sure you can rank high within your chosen Niche on Google and the other search engines to be noticed.
How do you do that you ask?  That brings me into the second topic here in my article.
---
Keywords and Phrases
Now you have made the decision on your Niche and want to know what to do with it right?
Researching your Niche with keywords and phrases is next on the list and to do this you have a number of choices, I use Jaaxy Lite to research mine but you have different options available to you Semrush, Wordstream, Spyfu, the list goes on these are just a few.
As a Premium Member of Wealthy Affiliate, I have Jaaxy Lite included with my membership for "free" you can always upgrade to a paid subscription anytime at a discount if you are a Premium Member.
The other keyword research tools are all paid subscriptions and some of them can cost a pretty penny depending on what you want in a research tool.  I have found that Jaaxy Lite does the job as many of the members at Wealthy Affiliate do.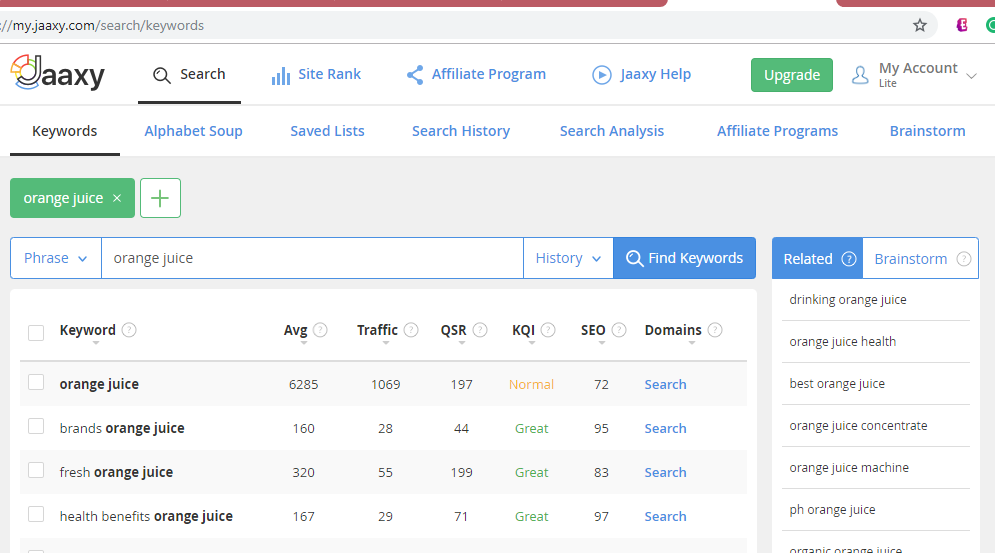 With Jaxxy Lite I can also enter phrases to check if they are being searched and how many people per month are actually searching a particular phrase along with how many possible hits I can get of my own per month using a phrase.
Your keywords are the way you get your ranking in Google, Bing, and Yahoo which is 99% of search engines used around the world.  Jaaxy Lite shows "Avg" this is the number of people searching for that particular keyword each month.
"Traffic" is the number of visitors you can expect to get to your website if you rank in the first spot on the first page of the major search engines.  "QSR" is the number of competing websites with this keyword.  "KQI" stands for the keyword quality if it is normal, great, or bad.  "SEO" (Search Engine Optimization) is an average score of what your chances are of ranking with the keyword.
So the higher you rank on their pages the better you are going to do. Your title for your page or post should always contain your keyword and it should also be used in the first paragraph of your content.
---
Content
Content is King! This saying is something that you will hear anyone who builds a website tell you, Why? you might ask.
Without content there is nothing on your website to inform, direct, instruct, sell, perform, review, tell people about, shall I keep on going?
Your content needs to be high quality in order to get ranked in the highest possible spot. This means you need keywords, not just the one that is for your Niche, but ones to describe your Niche.
Your content needs to describe everything that you know and can research in your Niche to keep people's interest so they do not go elsewhere to find what they need or are looking for.
Writing styles differ from person to person but you can develop yours to keep your audience interested in the topic at hand by doing your writing as if you were actually carrying on a conversation with the person.
This type of style lets you interact with them making it seem as though your speaking directly with them instead of them just reading along with your content.
When making some points you can insert a question that would come to your mind if you were on their side of the conversation, therefore making more of a point of why, what, where, when, and how.
I have already incorporated this into my post above as you can plainly see. It just gives people a feeling of belonging in the topic and makes following along a pleasant experience.
Reading books as a child you always had pictures to look at that would lead you along in the story.  As you grew magazines and newspapers include visual content as well, therefore a website should also have visuals to lead people along the way it makes for a better visual experience.
So this is another part of the content you can write about on your website as you add visuals to it. These can be in the form of just images to show examples of your Niche, products that you are reviewing.
If it is a store then you will have many products to write about and put descriptions on, you could be doing a blog about something showing images of crafts or foods, the possibilities here are endless.
---
Affiliate Links and Images
Pictures and images are not considered part of the content of your website, Why? do you ask? Well, your pictures and images are there for the visual purposes on your website for "eye candy" as I would like to call it.
The pictures and images you use need to deal with your Niche and how you want to present the content on your website to keep it pleasing to look at and break up the empty spaces on your pages and posts.
You can attach links to the pictures and images to take them to any of your affiliate links where they can purchase products from your site and thereby earn you a commission each time someone purchases the product or service from your website.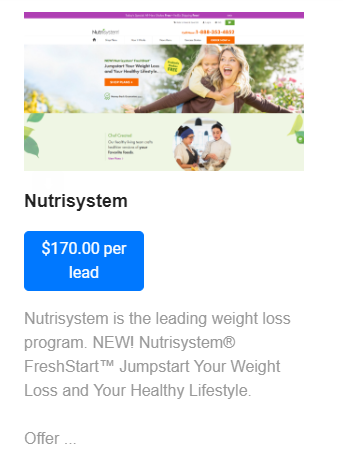 This is how you monetize your website in order to make money from what you are doing.  Because Google, Bing, and Yahoo do not use pictures and images to rank your website they do not care what your visual website really looks like just that your content contains enough keywords that people are looking for on the search engines for traffic.
It is best not to overdo it with your visuals and affiliate links to many and Google, Bing, and Yahoo then decide your website is only up for the monetizing and not to really bring in the traffic that they are looking to accumulate.
You can also advertise some of your other Affiliate Links on the sidebars and at the bottom of your pages to help monetize your website you will be surprised at how much advertising can be added but never get carried away the whole idea is to work your Niche and get the ranking.
---
In Conclusion 
These are all the basics components required for building your website but not conclusive.  The rest of what you are going to need to learn for SEO, indexing and ranking a website these are more behind the scenes.  What I have above are the visual components that you and others see when they land on a website.
Wealthy Affiliate Starter Members join for FREE and get two websites along with 20 lessons that will teach you not only how to put all this together but about the SEO and other behind the scenes information required to be successful online.
What is your excuse for not signing up and giving this a try?  After all, it is FREE!
Afraid of having to write content everyone is when they first start after you write a few articles the words begin to flow and then you wonder what you were afraid of in the first place.
Fear of failure starting your own online business?  Have you ever heard failure paves the road to success that is why 95% to 99% of people quit and not just the online business, but anything in life?
You got what it takes?  You can get started right now this minute just fill in the "Create Your Account Now" and be taken to the training – I suggest you start with the Online Entrepreneur Certification meet you on the inside!
Remember there is No Credit Card Required and you are never under any obligation to upgrade to Premium Membership ever.
Considering I love hearing from all my readers and visitors please leave any comments, suggestions, or questions in the space provided below.  I answer these usually within 24 hours.
Thank you for stopping by here is to great success and best wishes,
Susan