Copy My Email System – Legit or Scam?
"CMES for Short"
In all honesty, I am not going to say this is a scam but it sure does have all the markings of one. What makes this scary is they claim it is a done for you system.
Any time those words come out about a system it points to it being a scam, but looking at this in-depth makes me wonder just how much of a scam it really is.
Learning from years of experience and following the training provided for making money online working at home one thing I have found is all the systems that include certain wording point to a scam.
Copy My Email System pushing this off as a "done for you system" that only takes you 2 minutes a day? Is one of the largest warning signs this is possibly a scam.
Reading my complete article will give you all the highlights of how the system is supposed to work. Take the time to read it prior to spending any of your hard-earned cash!
---
Checking the Dashboard of CMES
"We are a 100% Partner Driven System where we make money together every single day. We need you to be successful because the more money you make, the more money we make." These are their words, not mine!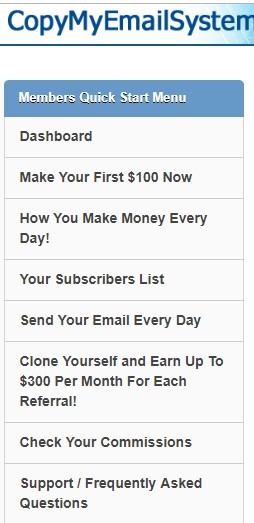 What they claim is they have too many subscribers on their email list making it impossible to reach these all with information that they have already requested.
With this claim what they want you to believe is people have signed up already and are waiting for emails for information that they have requested from CMES prior to you joining the program.
You are going to get paid for every "click" when someone opens an email that you have sent for the CMES system. But they also contradict themselves stating you will get paid every time someone clicks on a link in one of your emails.
Which way is it then? You are going to be paid every time one of the emails gets opened or must the person now click on a link inside the email you have sent?
Checking the next couple of claims for this system you are going to find "there's absolutely NO list building here" they do ALL of that for you. Not just that they are the best in the entire business of building a subscriber list.
Claiming they are so great with list building that their list is so huge they cannot send out a single email to the full list without it taking 13 hours to complete this task on a bandwidth because the list is just too big.
In order to alleviate this time consumption so they can send "smaller lists" of emails the task can be done in less than an hour enabling them to send multiple emails a day.
According to the system the more emails you send, the more clicks you generate, meaning the more money they can make! Partnering with you enables them to make more money, giving you an opportunity to make money as well?
As an example of what they are trying to tell you, they go into a story about a football stadium filled with fans escaping with only a single door. Stating with multiple doors how much faster and easily all fans can get out with a thousand exits.
According to everything that I have heard or been taught with the online world, the money is in the list of subscribers so giving others access to your list is not something I would be comfortable doing if this were my list.
This company is claiming that the internet does not want one guy with a million people on his list trying to send them emails all at the same time.
Claiming that the email companies want smaller lists of subscribers sending emails out quickly each day to be more efficient.

---
System is Completely FREE!
Next, they go on to tell you they are going to build the lists and team up with people just like you to send the emails. Sharing all the profits with you each and every day.
All you are going to have to do is log in each day to the member area and send an email to "YOUR" list? Another confusing comment in their claims it is now "YOUR" list.
Now they are stating that "Our system is completely free." You are not going to pay them a single dime to generate your list of subscribers or for any of the training.
All you need to do is set up an email "sending account" to log in from and send emails every day. Every time someone clicks on a link in one of the emails you get paid.
But none of these emails are sent from your computer or your email address, not even from your computer IP address. How does this work? They are saying it sent from your email sending system (which is FREE?).
They are going to start you off with a list of 500 New Subscribers but you must send them an email out every day. If you do this then they are going to add 500 New Subscribers each week to your list for the first two months for a total of 4,000 Subscribers, all for FREE.
So far all of this sounds reasonable, right? With the exception of confusing statements they are making, I was almost tempted to spend money to join this system. Oh yes, the FREE is not really free!
---
How To Get Paid
Here is where things are going to get sticky and become difficult to follow with how this system is paying you as a partner splitting the profits with you.
Entering now is Affiliate Company "ClickAggregators.Com" where Copy My Email System claims they are going to pay you 20 cents for each and every time someone clicks a link in one of your emails.
Yes, and they even make a bold statement of "Imagine sending just 1,000 clicks a day…that's $6,000 a month!"
Now, this is a nice chunk of money but the big "IF" applies to this as well. Continuing they claim they need a LOT of E-Mailers and referring others that would be interested can earn you a 50% Matching Bonus Check on their click earnings.
They do not explain how they came up with the $300.00 a month for each referral that you bring in, sorry I cannot figure this out with no information provided.
Ready Here It Comes
"The Email Sending Account is about $30 for a FULL 30-day Trial, so it's affordable to get started and comes with a FULL 60-day money back guaranteed." The exact words from their website selling page!
NO, the Email Sending Account is, in reality, is $34.00 to begin!

Now they are giving you the challenge to use the system for this 30 days prior to making a decision of keeping the system or just logging off and closing your account. Slipping in the cost of $34.00 like you forgot it is to be FREE?
Wait this gets even better with "In fact, we take it even one step further and we Guarantee that you will earn AT LEAST $100 in click commissions on your first day. You have absolutely nothing to lose."
What really is funny is the Click Commissions are paid every Friday by the affiliate company ClickAggreagtors.com! Not by Copy My Email System ever!
The $100 click commissions on your first day are lost if you close your account and you forfeit ALL other commissions as well!
Read all the fine print prior to joining any system or program offered on the internet to make sure you are not buying into more than what you are bargaining for.
---
In Closing
You know that this sales page for Copy My Email System keeps going on and on over 10 minutes of reading material along with a hyped up video all about the system and how you are going to make money in only two minutes a day!
What they are leaving out is how much other work is involved with joining other affiliate programs who are the ones actually paying you not them.
What is my recommendation or my opinion of "Copy My Email System"? Do I feel they are legit or a scam? I cannot say 100% they are a scam, however, I would not want to lose $34.00 by investing in the system.
A subscriber list is only valuable if you own the list in affiliate marketing purchasing lists can be highly expensive just like advertising best to know what you are getting into prior to spending hard-earned cash.
Believe me, there is more than just the ClickAggreagtors.com one mentioned above. Prior to joining Copy My Email System you need to look into building your own online business where passive income is going to happen when you commit yourself to do the work.
You have my word that starting with a Free Starter Membership is 100% FREE No Credit Card Required and you are never under any obligation to ever upgrade. But for me, it was plain the upgrade is worth its weight in GOLD! A STEAL really.
Click the box below and you can start right now today, with 20 free lessons, 2 free websites, free hosting, along with some other benefits that are PRICELESS for working in the online world.

Below I left you a few more pieces of information that were on the Copy My Email System sales page. If you are interested in taking a look at them they only backup the facts I gave you above.
These I did copy from the actual website of Copy My Email System – their words as written on their website I did not alter these in any way for you to decide yourself if this type of system is legit or a scam.
Hearing from my readers is always most appreciated please leave comments, suggestions, or questions you have for me in the space provided below.
Thank you for visiting my website I am looking forward to seeing you inside the community I have invited you to join.
Best wishes,
Susan
What is Click Aggregators?
Click Aggregators is a internet traffic company that pays you for the traffic you generate each day by sending your emails. Any time someone clicks on a link in any of your email messages it registers as a click in your Click Aggregators account. They pay you directly for your email traffic generated. We do not pay any members.
How do I get paid?
There are two ways to make money with Instant Email Empire…
The first is Click Aggregators pays you directly for all of the clicks you generate in your daily email. All of their payment information on when you get paid and how you get paid is located in your Click Aggregators account.
The second way to earn money with our program is referring other members to join under your Clone Website link. By referring members you earn commissions directly from Clickbank every time someone pays for their email sending account. You do have to have a completely FREE Clickbank Affiliate Account, which is easy to sign up for. For more information on this very lucrative part of the program click on the "How to Earn $10,000 a Month" tab on the left side of this members area and follow the instructions.
Note-We Do Not Pay Commissions, The Two Companies Listed Above Do. Our System is Completely Free. We do not charge you anything to use our system or for the Subscribers we give you.
How do I get a refund?
Again we don't know why you would want to refund and close your account, but we do understand it does occur. Please note that if you get a refund, that ALL of your commissions, including the $100 will be voided. To get a refund, please simply submit a ticket and we will take care of it.