What Is Classic Solo Mailer?
I was looking for a way to build my email list for my website when I stumbled upon Solo Mailers. Believe it or not, there are hundreds of mailers available and knowing which ones are going to work is difficult to decipher.
"What Is Classic Solo Mailer?" and how do they fit into the picture of whether or not you should become involved with them as a go-to in order to drive traffic to your offer?
Hopefully, by the time you are finished reading my article, you will have an understanding of Classic Solo Mailer and how it can work for you. Not just in increased traffic to your offer but to put a little extra money in your pocket.
---
Who Is Classic Solo Mailer?
Classic Solo Mailer is owned and operated by Ivan Golemdzhiyski take the time to look him up if you would like, you will find he is a member of many Social Media sites and active in them all.
His dedication to making sure Classic Solo Mailer can be seen in the following quote:
"High-quality business prospects come from high-quality advertising. ClassicSoloMailer's simple and easy-to-use website design, combined with a list that is
regularly cleaned of 'dead wood,' guarantees you'll always reach ACTIVE subscribers for targeted exposure and results!"
Combine those features with an automatically generated commission payout, and you've got a real winner!
There are over 30,000 active subscribers at this time to this particular mailer reaching that type of audience on a daily basis as a "Gold Member" establishes trust between you and them easily.
Getting to know your audience is essential prior to making a conversion into purchasing products and services that you are promoting so make sure you are doing just that.
---
How to Join Classic Solo Mailer
You have the option of becoming a "FREE" member or "PAID" member of this Solo Mailer. My question to you is "Why are there paid advertising or mailers?" and also the FREE members?
I would like to point out that all big corporations such as Amazon, Google, Walgreens, etc. all pay big money to advertise. When you think about this logically why would FREE advertising even work?
Here is what is going to happen should you only join a mailer as a FREE member. The number of emails or advertisements you are going to be able to send will be limited (you are not going to be able to use them on a daily basis).
People purchase from those they know and trust, in order for your audience to get to know and trust you it is imperative to get your name/brand in front of them daily.
Another thing to consider when joining as a FREE member your emails and advertisements are only seen by other FREE members. These are what we like to call the lookie-loos those looking for only the easy way of doing things for FREE!
I have taken the opportunity to show you the difference below between being a FREE member or a Paid member of this mailer, please take time to check these differences out.
The Gold Membership is the top of the line but you can also compare the Free versus the Silver Membership below: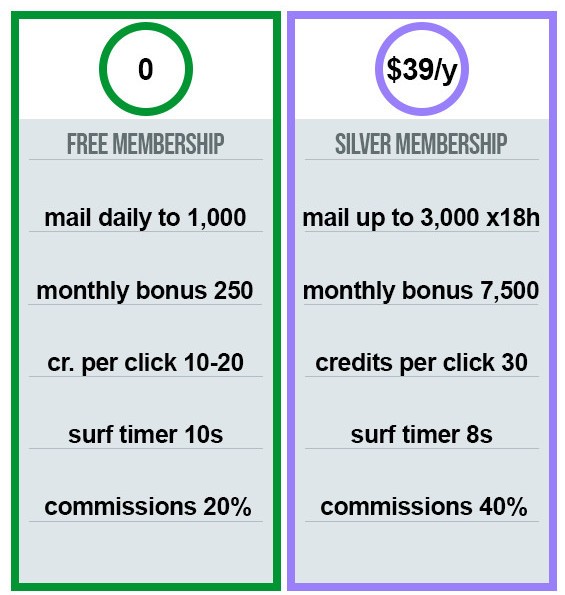 For those of you that cannot afford the yearly membership fees, Classic Solo Mailer does offer a recurring monthly fee of just $6.99 per month, which is absolutely affordable with any budget.
Most people do not consider their advertising budget when they start a business something that is vital in order for them to succeed and become profitable in the shortest time possible.
I would also like to point out that the time involved with clicking on other people's advertisements in order to accumulate the required amount of points to send your own emails can be highly time-consuming.
With a paid membership into the mailers, you are not going to b required to click on other's advertisements to accumulate these to send out your emails or solo advertisements.
This saves you huge amounts of time that can be spent doing other important tasks involved with running your business.
---
In Conclusion
"What is Classic Solo Mailer?" by writing this article I am hoping that I have explained what and who they are along with the benefits of belonging to mailers.
I am going to continue to report on more of the Traffic Exchanges and Mailers here on Work From Home in order to guide people to the ones that are worth spending their hard-earned money with getting results.
Should you wish to join Classic Solo Mailer you can do so by clicking the banner below:
I enjoy hearing from my reader please leave comments, suggestions, questions you have for me in the space provided below. I usually answer within 24 hours.
Thank you for taking the time to read my article today, please share with other's and bookmark the website for future articles that might be of interest to you.
Best wishes to your success,
Susan