What Is The Toluna.com?
"The Toluna.com" is considered a survey site that you can join to do more than just take surveys. They pay in points which can then be used to cash out for rewards (gift cards).
I do belong to this survey website and must admit they do not bombard you with thousands of emails on a daily basis like some of the others do.
Unfortunately, I gave up doing surveys over a year ago the time I spent doing all the surveys additionally reading emails can best be spent running my own online business.
We can get into that later because that is not why you came here you came to find out what Toluna.com is all about, right?
---
Background on Toluna.com
ITWP Acquisitions Ltd. is a private investment firm that the sole shareholder in Toluna, Harris Interactive Europe, and now KuRunData.
ITWP has acquisitions of several survey websites including but not limited to Greenfield Online in July 2009 from Microsoft, Harris Interactive in 2014 from Nielsen, and most recently with KuRunData in January 2018.
ITWP has become one of the leading digital market research companies worldwide, with a strong focus on digital and automation.
With a community of global members, with real-time access to consumers across the globe. Their platform enables customers to launch custom market surveys in multiple markets with a few clicks and get the result in less than 8 hours.
It also provides survey samples and custom panel building expertise to leading market research firms and advertising agencies worldwide.
ITWP was founded in 2000 by Frédéric-Charles Petit, its current CEO. Verlinvest a family-owned investment company invested in ITWP in July 2009.
---
How To Register With Toluna.com
Interested in doing surveys for Toluna.com? The sign up is simple you go to their website and hit the sign up button. Fill out the form with some of your personal information as your name, address, and email address.
They use this to match you with the appropriate market research projects for your area of the world. Your email address keeps track of your rewards points for surveys you can complete.
Going into the profile you may be asked for other personal information they state on their website the sole purpose of which is to build and operate a worldwide proprietary database of panelists.
The surveys you will receive are created by Toluna clients not personnel at Toluna. These are mostly market research agencies and brands. Most surveys will last between 15 and 20 minutes. Survey Menu is shown below:
Every survey starts with a few questions to determine if you are qualified for the survey, other times it might take more questions to see if you are in the targeted demographic group needed for the study.
Should you not qualify for a survey the responses you have entered are never included in the final research findings, therefore they are excluded from being sent to the client.
There are a few other ways to earn credits or points on Toluna, unfortunately, they do not disclose the amount or number of points you can earn for these.
You can start a discussion in the community by creating a topic to start an open-ended forum with other members. Simple to do just ask a question then wait for the community to respond. Community Menu is shown below:
You can Create a Poll to ask a question with multiple preformed answers, other members can make one or several selections. Your statistics and the infographic will update in real-time.
---
Brands That Use Toluna.com
The screenshot below from their website shows the brands that use Toluna for surveys to the community. Should you qualify and complete a survey you have the power to influence some of the world's largest brands by sharing your insights.


---
Rewards Offered By Toluna.com
Gift cards start at 30,000 points for a $10.00 card and can increase to $50.00 for 150,000 points.
The only way you get awarded your points is by completing the survey. If the survey fills up or you do not qualify for that particular survey then your time is wasted.
Doing the calculations with most surveys lasting 15 to 20 minutes rewards points at 1,600 each survey, needing a total at the lowest end of the rewards offered is 30,000 reward points meaning you will work for 6 hours 15 minutes for $10.00.
They will award you points when you sign up and complete your profile but nothing that is going to light your bank account on fire. Completing mine partially earned me a whopping 15 points at 60% complete.
Now if this is what you love doing then I say by all means sign up to Toluna.com. But before you do take a look at what others have to say about Toluna. (Information gathered from Trustpilot)
A total number of Toluna.com respondents 2,054 Trustpilot = Breakdown of their Ratings Excellent 43%, Great 30%, Average 7%, and Poor 18%.
Because of Toluna, I made more friends, increased my knowledge of current affairs and I have earned some pocket money for myself.
I've tried about 10 surveys and I'm wasting my time. It seems that I'm not eligible for any of them although it did ask me many of the questions twice just to make sure I was definitely not eligible, thus wasting even more of my time for no reward!
Toluna lets me voice my opinion, which is something I love to do. My friends can vouch for that.
Scam scam scam- doing surveys until you get the error message or you are not suitable- should have been more intuitive-do not bother with these types of companies they only sell your details to other marketing companies.
I love that there are so many nice supportive people on here. I enjoy reading what my Toluna friends are thinking about and Toluna is a great stress reliever for me.
As always too good to be true, was naive and ignored the negative reviews.
Gave it 15 surveys, some I was eligible for some not, found a few under specific categories. Every single one worked until you had answered all the questions and crashed.
Toluna is one of the top websites to find, test and leave your personal opinion on new, up-and-coming products that are on the market.
What people have to say about Toluna.com is quite mixed, I found that the time spent is not worth what tiny rewards you are going to receive.
That is when I needed to find a way to make money working online that could be worth the time I spend working. After doing much research, I can highly recommend to anyone who asks – Affiliate Marketing!
---
In Conclusion
I must apologize to anyone who feels that their time is worth so little that doing surveys for over 6 hours is only going to earn them a $10.00 gift card. Minimum wage-paying jobs are going to earn you more in that time frame.
Is Toluna.com a scam, no far from it, but to qualify for the surveys and then complete enough of them to be making any substantial income not happening!
Working online owning a business is where it is at. Once you learn the complete process of how it works then you set your goals of how much you would really love to be making and go to work.
No, you are not going to be making any money, in the beginning, it does take time. Equate the over 6 hours doing surveys to using that time to create a website that can earn you a passive income stream for years to come with commissions.
Commissions paid by affiliate programs can range from 2% up to 75% on products and services where you will never be responsible for keeping inventory or dealing with customers.
A little math here tells me that by doing work once for my business website earning commissions makes earning easier and wiser. Check out the difference and let us be super reasonable here at 5% of an item that costs $1000.00.
Each item a person who purchases from my website I am then going to earn a $50.00 commission not bad, right? But the time and work I had to invest for this to happen might have been only an hour or two.
Plus that one item can earn that same commission for years into the future earning money over and over again on the same piece of work I did only once.
There are over a million products that you can make money online using. Approximately fifty ways of making money online doing affiliate marketing, if you are thinking it is too hard, guess what, you would be wrong.
Everything you do in life affects your future this one small step can enable you to create the future of your dreams, but only if you are willing to work for it!
This makes much more sense to put time and work into something that is capable of earning income over and over again for years to come. Especially, if it takes over six hours to earn a measly $10.00 Gift Card.
Wondering how you too can get in on becoming involved with the affiliate marketing programs? Great news you can begin right this minute with a 100% Free Starter Membership, put away your credit card there is No Credit Card Required.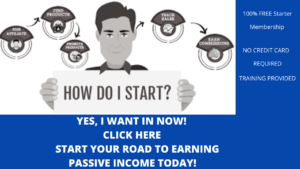 Hearing from my readers is greatly appreciated please leave me your comments, suggestions, or any questions you might have in the space provided below. I usually answer within 24 hours.
Thank you for stopping by today, bookmark my website for future reference and be kind share with others.
Wishing you all the best for online success,
Susan